I think we're turning Japandi, I really think so
.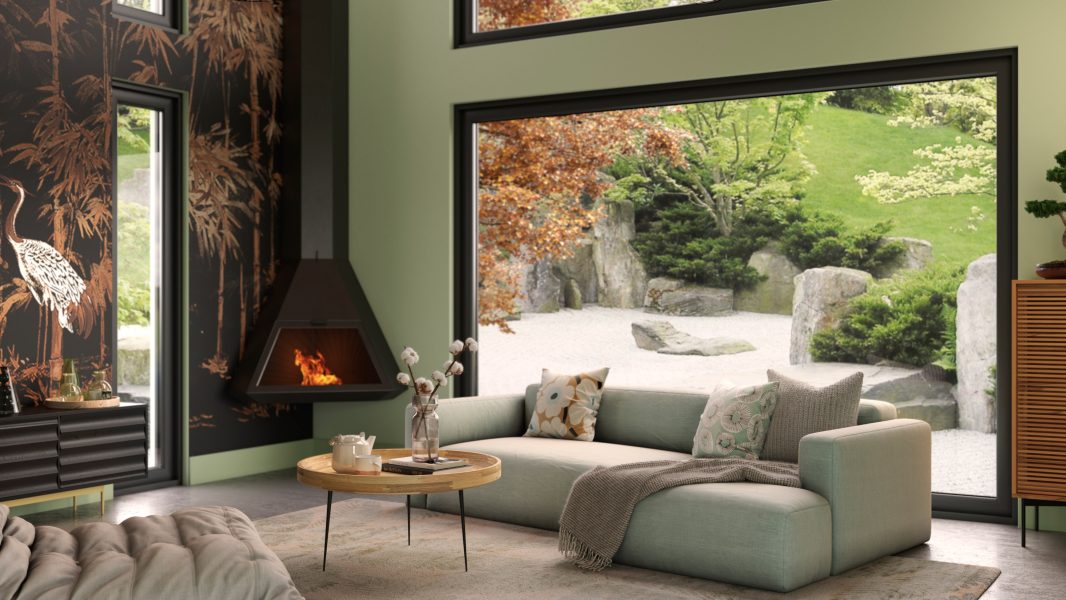 Our physical environments have a huge impact on our mental health and wellbeing – which is why it's so important, now more than ever, to cultivate home environments that support us to feel happy, comfortable and secure. And that doesn't mean spending loads or copying Influencers. It's all about what you like, and what makes you feel good.
In her latest blog, inspired by the Dulux colour of the Year 2020, Tranquil Dawn, our Interior Stylist Laura explores the Japandi trend – think Scandi-influenced cosy cabin vibes mixed with the timeless elegance of the Japenese aesthetic – and how you can achieve this snug yet sophisticated look in your own home.
We might not have much choice in the matter at the moment, but hibernating indoors on a cosy couch, enveloped in marshmallow pillows and chunky throws whilst getting lost in a great book and sipping on something warm (and alcoholic) is a splendid way to pass the time, I'm sure you'll agree? My aim with this CGI scene is to convey that exact feeling of relaxation, comfort and serenity and transport you to an elegant, Hygge-inspired haven…
My inspiration for the scene came from one of the main emerging trends for 2020, Japandi, and the Dulux colour of the Year, Tranquil Dawn. The colour sits somewhere between minty green, blue and cool grey and can be used in a neutral, warm, soft or bright palette. Dulux describes Tranquil Dawn as 'a colour inspired by the morning sky, to help give homes the human touch' – how lovely does that sound?
With this image I really wanted to enkindle a sense of warmth, calm and serenity. Some people may consider the Japandi trend to be a bit minimal and cold, after all, it's the love child of two very carefully curated, pared-back styles; a hybrid of Japanese and Scandinavian design. Because of these preconceptions, I wanted to show how this look can be ignited using layers, patterns and a mix of blonde and black woods to create an inviting, lounge-friendly atmosphere.
Also referred to as 'Scandinese', this trend is on the rise for 2020, and after a lot of online trawling and product hunting, I can see that some of my favourite high street stores including Habitat, Zara, Swoon and West Elm are already showcasing this blend of styles across their latest product ranges.
For me, the key to nailing this trend and creating a cool and contemporary space is to use multiple layers of pattern, upon texture, upon colour – even if it's a refined palette of cool tones – so much richness and can be added this way.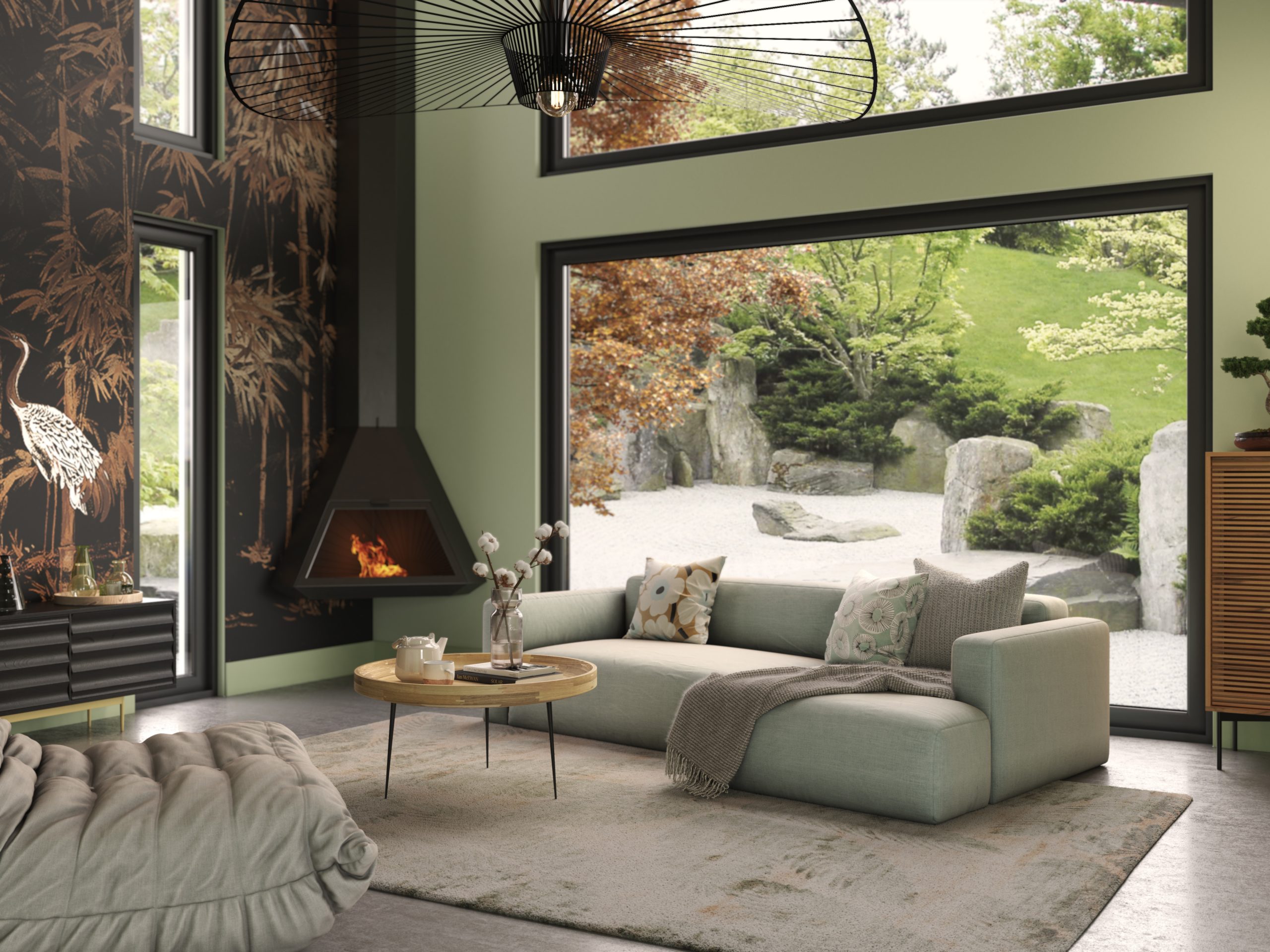 When designing this shot, the first questions I asked myself were, 'How do I want to feel in this room?' and 'What kind of environment would the Japandi style best complement?' (that's the beauty with CGI – we can create the perfect room scene to best articulate the style and look that you want to visualise!) I also wanted to encourage a sense of complete comfort and belonging in this space, a room that could be a living room within your home, or a space within a high-end Airbnb.
Both the Japanese and Scandinavian styles define serenity, sanctuary, minimalism and clean lines and champion subdued and tranquil colour palettes, so I knew right away that Dulux's Colour of the Year 2020, Tranquil Dawn, would be a great fit and the perfect way to incorporate two trends harmoniously.
Layering multiple iterations of the same or similar colours is a technique I sometimes use to create analogous schemes that are pleasing to the eye, even if it's just on one wall. The Nygard chaise sofa at Swoon sprang to mind as a perfect complementary piece. It comes in a subtle Jade colour, which is a lovely near-match to Tranquil Dawn, and is admired for its comfy shape and squishiness. Because the sofa and the wall are featured near the window, the colour similarity is broken up by outdoor scenes and layers of surrounding cushions and throws.
When I think of Scandinavian design, fur always comes to mind as a softening alternative to the harshness of woods. The fleecy cream fur throw I've used on the sofa, overlapped with the herringbone blanket and graphic, patterned cushions creates the perfect snug from which you can nap by the fire and gaze out of the window.
The Ligne Roset Togo chair is one of my all-time favourite designs. It has a rounded, spongy, origami vibe and works harmoniously with the patterned leaf rug, a mixture of pale and black woods, eastern plants, fluted glass and a muted palette of various shades of green. The overall feel is of a beautifully designed space with functional, intriguing pieces.
Across the industry and beyond we've seen an increased awareness of, and demand for, biofilic design and experiences. Biophilia refers to the innate need for humans to connect with nature and the natural environment. As humans, our connection to nature makes us feel good, whether that's through the use of colour, a motif ,or a particular style within our homes. So many retailers are buying into this; The National History museum has recently teamed up with Farrow & Ball, who have released a paint range based on their colour archives. Made.com recently created prints based on illustrations by top explorers and William Morris is having a big renaissance not only with interiors but by using their patterns and fabrics collaboratively with fashion brands. We're very much surrounded by this influence which is also a big factor in the Japandi style, and I wanted to bring this to life using natural shapes, pattern and colour. Harnessing this natural air and injecting an Earthy presence was high on my agenda for this space.
In bringing the whole look together, the Garzas wallpaper from Coordonne was a crucial addition, adding touches of warmth and glamour to this pared back room.
Both the Japanese and Scandi cultures have their own profound sayings which have inspired this blog and visuals, and have taken on greater significance lately. The Japanese term 'wabi sabi' is the beauty of the imperfect and incomplete, accepting the natural cycle of growth and decay, whilst the Danish word 'hygge' describes the practice of curating a cosy and comfortable home that promotes feelings of wellness and contentment.
Japandi, the combination of these two styles, therefore feels far more than just a trend, but a way we should think about approaching design overall, considering quality and comfort over quantity and really appreciating each piece, its use and its value for our homes, as well as our wellbeing.
If you would like to find out more about our CGI work and what we can offer your business, please visit our services page.
You can shop the full list of items used in the room below…