July Campaigns of the Month
.
Topic
Campaigns of the Month
As Barbenheimer mania reached its climax over the last few weeks, we're back for another look at all the weird and wonderful campaigns of the month for July. From clever CGI and AI to stunning animation and cinematic chaos, sit back and enjoy what's been a brilliant month of marketing and advertising.
Barbie & Oppenheimer marketing madness
We've witnessed the true power of social media over the last few months with the well-documented same day release of summer Hollywood hits Barbie and Oppenheimer. Nolan cinema buffs and Barbie super fans alike have come together to enjoy one of the strangest trends since The Dark Knight and Mamma Mia came out on the same day 15 years ago.
The high calibre of actors in both films and the stark contrast of themes opened the door for content creators to produce countless memes, hilarious mashup trailers and so much more, which has had a huge impact on the organic marketing efforts for both blockbusters.
While it seems the internet has done most of the heavy lifting for the marketing campaign of Nolan's Oppenheimer, Barbie has done the opposite and gone all out with its efforts. A huge Barbie dreamhouse mansion, countless collaborations with big brands like Burger King, Bumble and Burberry, as well as London tube stations being renamed, it's fair to say the Barbie marketing team have done a pretty good job.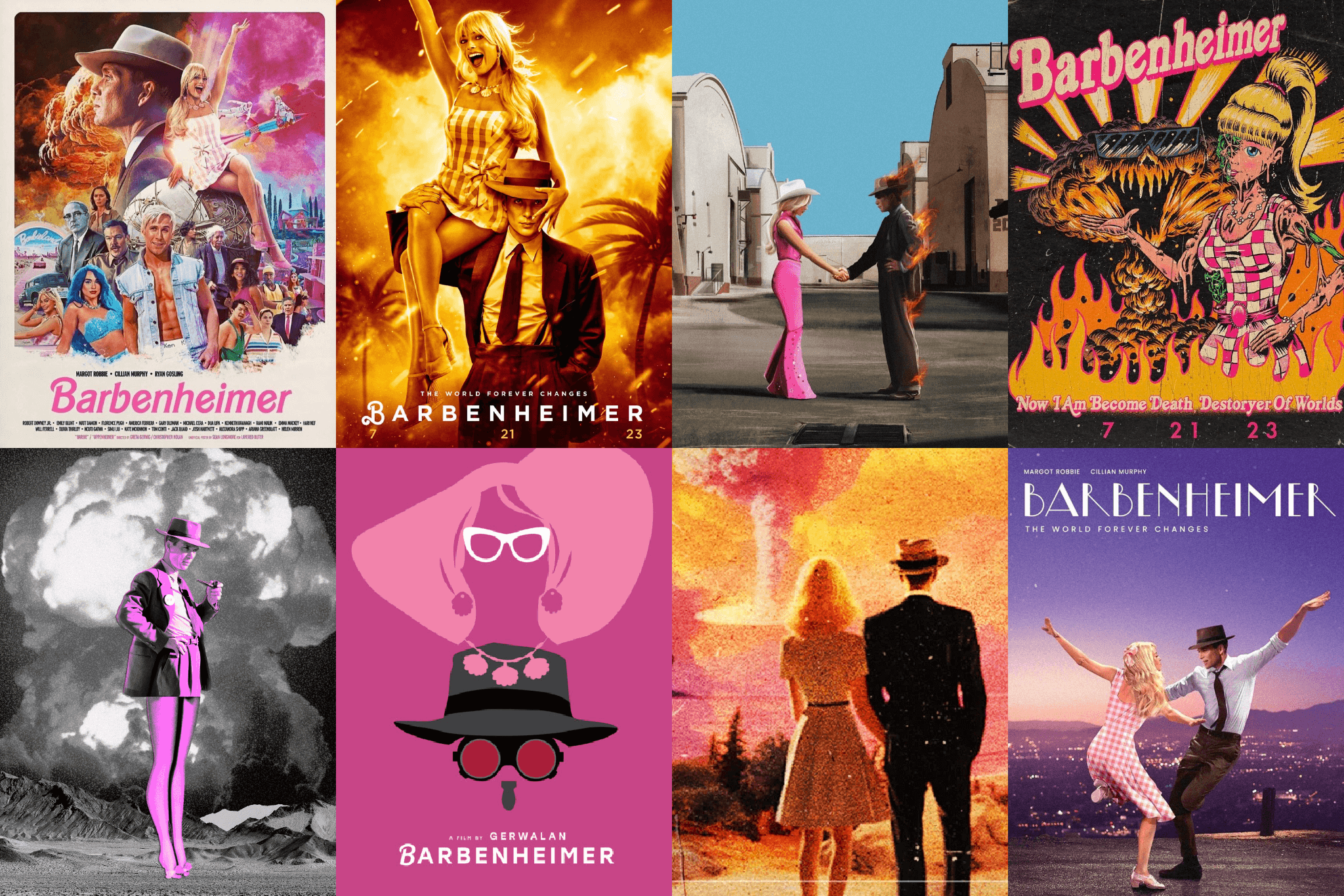 The Oppenheimer team on the other hand has been happy to ride the wave of Barbie's marketing success, releasing a trailer or TV spot every so often with Cillian Murphy looking gradually more concerned.
While the films have taken two very different approaches to their marketing efforts, they've both been absolute hits and it will go down as one of the most successful (if unexpected) collaborations in film history. Name a more iconic duo. We'll wait…
Orange France - Women's World Cup film
As a devout football fan, I must admit this ad had me fooled. The film by Orange takes the players of the French Women's Football Team and masks them with the men's squad. It showcases all the wonderful goals and skill that the France Women's team can produce. Audiences are tricked into not being able to tell the difference between the male and female game, showing them that women's football can be just as good as men's. A brilliant ad that perfectly set up the Women's World Cup kicking off last week.
Apple – 'Battery for Miles' film
Simple, effective and clear. That's how we'd describe Apple's latest film advertising the extended battery life of the iPhone 14 Plus. The film depicts an old farmer driving a tractor down a very long and straight road, carrying a giant pumpkin on the back of his trailer. Stay with me… The film is juxtaposed with a rap song as the tractor slowly drives down the endless road. The farmer is using the maps app on the new iPhone 14 Plus, which clearly should be redundant when travelling down a straight road, but due to its long battery life the farmer can use his phone for as long as he likes, even if it's for useless tasks like navigating a long straight road. Just brilliant.
Chester Zoo – 'Lanterns and Lights' film
Chester Zoo has started its marketing campaign early for the much-anticipated winter Lanterns and Light trail with a charming campaign by Meanwhile.
The agency has produced a beautiful film for the launch that uses various techniques, with live-action and handcrafted miniature sets mixed with 2D animated characters giving the audience a taste of what's to come later in the year for the zoo's brand-new attraction.
The AA - "It's okay, I'm with the AA" film
This collection of hilarious ads from the AA uses humour to depict various AA members in tricky situations. However, the members aren't phased by whatever is facing them as they are confident that the AA will step in and help them through these tough moments. Whether that's a patient receiving a rather odd X-ray scan result, a getaway driver faced with a breakdown or an unlucky parent filling up his car with the wrong fuel. This could be a turning point in the AA's marketing efforts and position them more as an engaging and fun brand, similar to what Direct Line successfully did quite some years ago, moving them away from its warming but dated "here for you" positioning.
So there you have it folks, the best campaigns of July. Which was your favourite? Did we miss any? Remember, if your business is in need of a creative campaign that can rival these, get in touch.