Making waves with Riverside
Client
Harrison St & Link City
Industry
Property & Placemaking
Services
Brand Strategy
Brand Identity
Brand Design
Brand Guidelines
Video
Photography
360°
Website
App
SEO
Content Marketing
PPC
Social Media
As one of the UK's smallest cities, Canterbury doesn't offer a huge amount of choice when it comes to places to live at university. But that has all changed with the arrival of Riverside, the city's newest student accommodation development from Harrison Street and Link City.
Riverside promises the ultimate university experience with a contemporary range of high-quality rooms, state-of-the-art amenities and spaces to study, socialise and relax. The building speaks for itself, but our job was to get people through the door with a comprehensive branding project and accompanying website, app and digital marketing campaigns.
Starting with the brand, we drew inspiration from the development's name and its location by the River Stour to create a bold brand identity and visual language that takes its cues from the movement and dynamic characteristics of water.
The colour palette consists of vibrant colours found in nature to give a fresh and energetic feel, and our design incorporates 2D and 3D water patterns that can be overlayed on images and text to give a sense of fluidity and motion.
The brand was underpinned with an authentic story, positioning and values centred around the idea of students making waves at university.
We brought the brand to life in the form of a slick and highly-visual website showing off everything that makes Riverside the perfect place to live for students, with a lifestyle video at its heart featuring photoreal CGIs of the yet-to-be-built development interspersed with shots from around Canterbury that give a feel
for life in the city.
These were filmed on location and show off everything Canterbury has to offer, from its ancient city walls and peaceful waterways to bustling high streets and plethora of independent bars, shops, cafes and restaurants.
Watch the lifestyle video: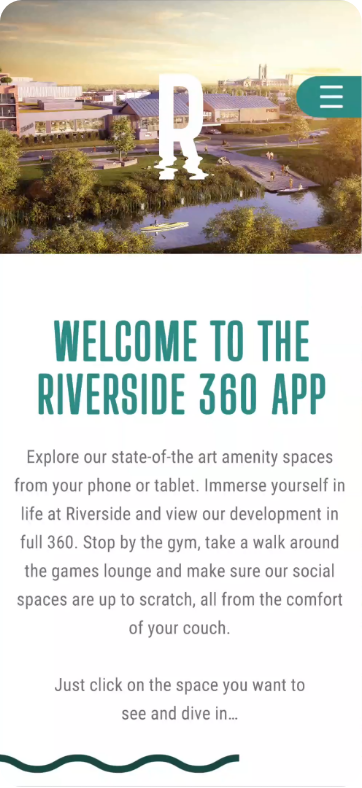 We also designed and built a dedicated app available in the app stores where students can view 360° CGIs on their phone, allowing them to walk around the building virtually and envisage what it would be like to live at Riverside.
Finally, we delivered a joined up digital marketing strategy and campaign to build brand awareness, engage with prospective students and drive bookings.
From eye-catching and engaging social media content that creates a sense of community through to paid social and PPC campaigns that do the heavy lifting when it comes to lead generation and conversion, it was all set up to deliver results – which we did by the bucket load.
Since launch, our paid campaigns alone have generated more than 4.7 million impressions and 6,700+ conversions. So it's safe to we've made a splash.
Testimonials
Testimonials
Testimonials
Testimonials
Testimonials
Testimonials
Testimonials
Testimonials
Testimonials
Testimonials
Testimonials
Testimonials
I have worked with Holdens over the last couple of years, tasking them with the branding and marketing of some of the UK's largest residential and student developments. Their innovative and technological approach to property marketing has proved invaluable, as they have contributed to delivering on our key objectives and exceeding targets.
David Lawrence
European Development Director - DLC Europe Ltd