The rise and rise of Augmented Reality and Immersive Technology
.
Category
Content Marketing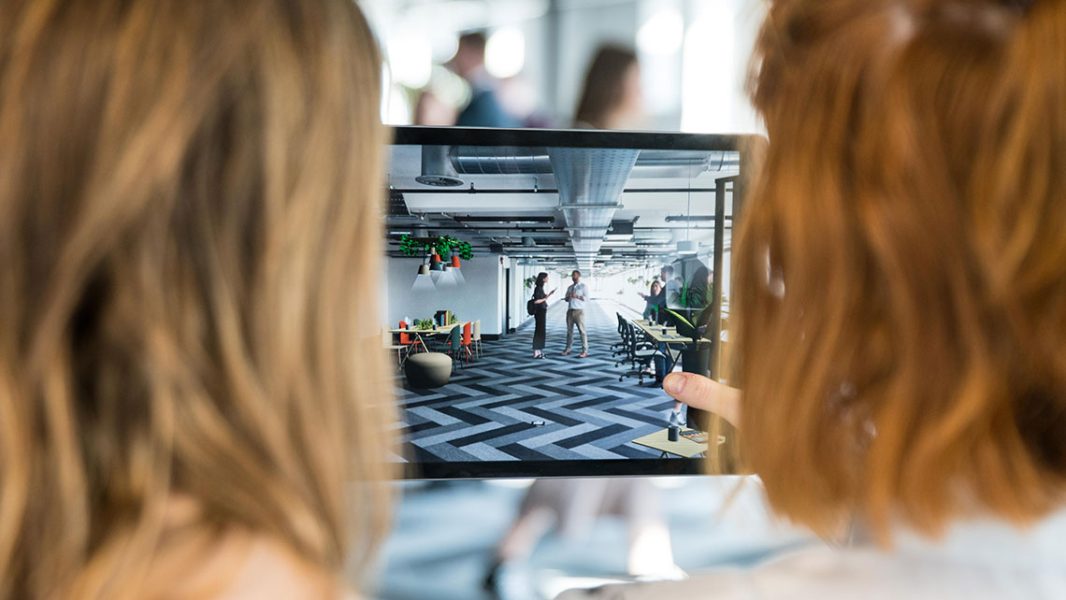 Augmented Reality (AR) and Immersive Technologies have gradually become a larger part of our digital lives over the last few years. 2019 saw a 1,400% rise in demand for AR/VR developers, and with the dawn of web-based AR (WebAR) upon us, we now have the opportunity to launch these experiences directly through the web, allowing for near instant access to AR experiences and removing the need for an app download. 
Perhaps even more exciting, is the opportunity to revolutionise the way we interact with the web. Moving from typical 2D websites to highly interactive 3D experiences offers endless creative possibilities layered over the real world, blurring the line between the digital and physical.
With Coronavirus turning the world upside down and restrictions in place around leaving the home, we have seen a rapid rise in interest for AR experiences.
Google Trends shows us that Augmented Reality as a topic recently reached a new peak of worldwide interest across web search towards the end of March/early April.
With this insight we can reflect this desire, and to some extent this need, from people for high quality digital experiences, and AR is an incredibly powerful and flexible tool that is allowing brands to reach audiences in uniquely interactive and engaging ways.
Here are some examples of the types of AR content that can be created…
Drop a shop (Digital pop-up shops)
Take online shopping to the next level by creating explorable in-home retail spaces unbound from the restrictions of a physical store.
With digital pop-up shops, customers can drop a retail space in their front room or even their garden, turning the typical online 2D shopping experience into a 3D interactive customer experience that the user can physically walk around and interact with.
Take a look at our concept for an AR powered bike shop:
Give your customers the ability to place your product in their own home with the power of AR, allowing them to see the products in true scale and view them from any angle.
For clothing, you can even give them the option to digitally try the product on using face and/or body tracking technology.
Shopify recently reported a 250% increase in sales for those brands who were offering this to their customers on their platform.
WebAR now allows for AR experiences to be launched directly from google search results, removing the need for a separate app download. Take a look at these Burberry products that can now be viewed in 3D directly from Google search with one click. Burberry will be rolling this feature out to all of their products very soon.
Try it for yourself – Search Leather TB bag with chrome browser then click view in 3D.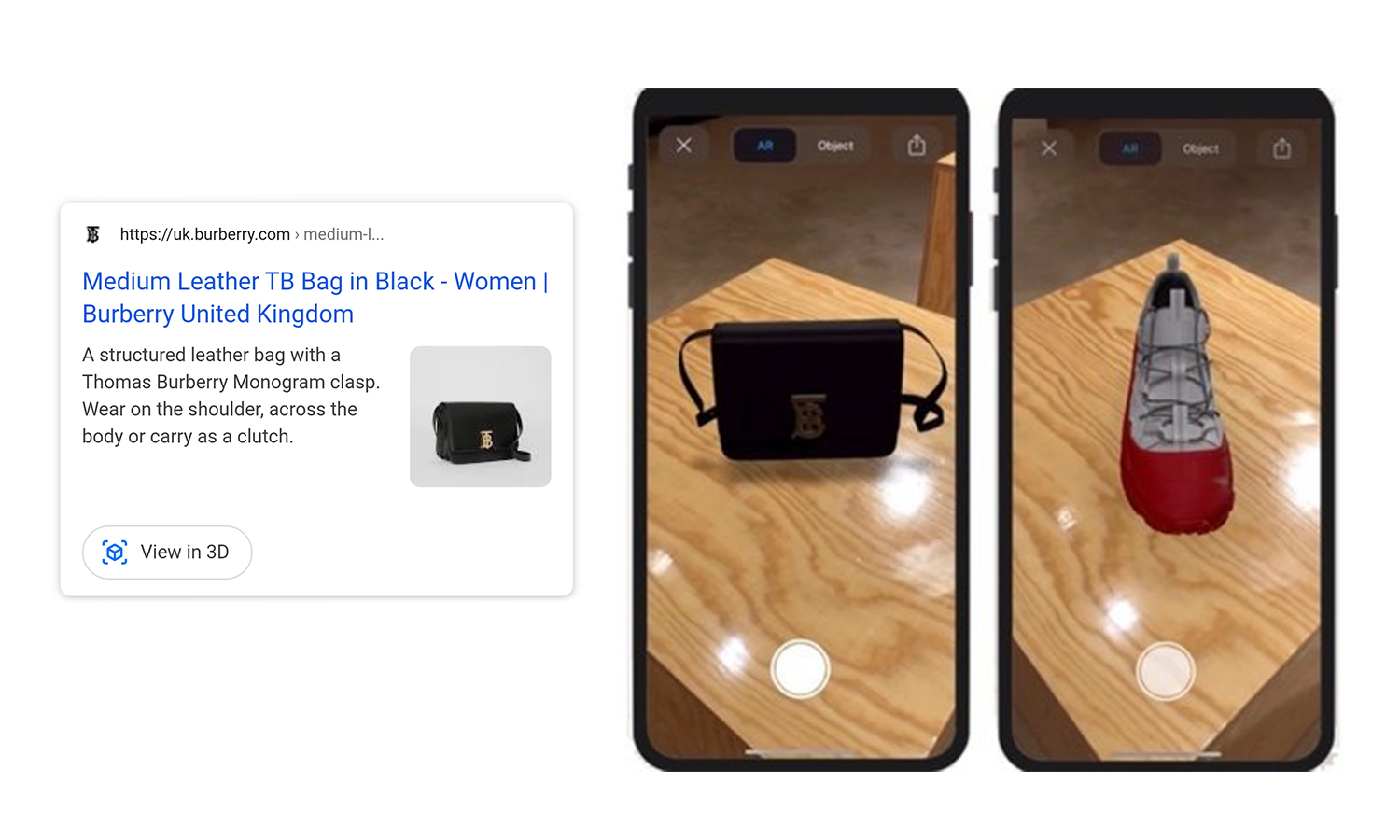 Bring brand packaging to life with AR powered 3D scenes. From small-scale table-top experiences, to larger scale rooms and experiences that invite exploration, packaging can now serve as the activation point for an extended, entertaining customer experience.
Take a look at these innovative designs by W-in-the-box.
Augmented Reality for Packaging
With AR, 3D models and 360 content, customers no longer need to visit a show suite to get a real understanding of a new building or space. Now they can place a detailed 3D model of it in front of them and quickly go from a smaller scale overview to a true 1:1 scale representation, allowing them to physically walk around the space (or use on-screen navigation if space is limited).
Here at Holdens, we've created virtual tours and AR experiences for a variety of property clients from commercial to residential, to bring their spaces and places to life for their audiences.
For Onyx, the largest student accommodation taking shape in Birmingham, we've created a bespoke app that houses the majority of the website content – Onyx and Birmingham-specific info, contact details etc.
Through the app, users can explore Onyx in 3D and manipulate the building and its various spaces to see them from different angles and perspectives. They simply move their smartphone or tablet to view the full 360 CGI scenes.
We wanted to enable students who may not be able to visit the physical show flat to explore all that Onyx has to offer remotely.
By seeing what their room will look like and navigating their way around the building, it helps with the decision-making process and increases their chances of booking. Click here to discover more about Onyx.
Similarly, for commercial property company Bruntwood, we created three AR experiences that brought their new St James' development in Manchester to life. Visitors held iPads and physically walked through the building, exploring the spaces in AR and discovering the possibilities that they held. Click here to see more about this project.
A revolution for advertising and storytelling
Possibly one of the most exciting, and relatively untapped areas of AR is the evolution of advertising from 2D to 3D and the ability to give customers 6 degrees of freedom (6DOF) when viewing content.
AR gives control of the camera to the user, making them an active participant and allowing them to view content the way they want to. This throws up incredible opportunities for interactivity and discovery within experiences whilst also offering endless possibilities for storytelling and creativity.
This is an area that will grow rapidly as web-based AR experiences become the new norm.
Take a look at how Wonderscope, an interactive app for kids, approaches storytelling in AR:
We explored the possibilities of AR in encouraging interactivity and playfulness when we created 'Doughball' for Pizza Express; an Augmented Reality mobile football game which allows diners to shoot Dough Ball footballs into a 3D goal that can be placed right on their table, just by using their phone's camera.
To give everyone around the table a slice of the action, we implemented a multiplayer mode and a global online leader-board allowing users to battle it out for the top ten spots.
The combined result was the creation of an addictive and challenging branded AR gaming experience that is great fun to play and positions Pizza Express as true innovators in the hospitality industry. Find out more here.
The AR Cloud (put as simply as possible) is a persistent 3D copy of the real world. A living, shared, "soft copy" of the world in which persistent augmented reality experiences reside.
So, what does that really mean? Well, it will give us the ability to embed AR experiences into the real world with a high degree of accuracy whilst simultaneously removing the need to access them through a website.
Imagine holding your phone up to any space in the world and being able to experience immersive content tied directly to that location. Imagine Piccadilly Circus, Old Trafford or Times Square with an additional layer of 3D brand experiences layered over the top –experiences you can interact with and physically explore.
Now imagine that your phone is replaced by a pair of glasses or contact lenses and all the information you once accessed through your phone in 2D is now placed in front of you.
The move away from 2D experiences on screens to 3D content that blurs the line between the physical and digital worlds is a natural evolution of the technology.
When you think about it, why limit our digital experience to a 5/6-inch phone screen when real life is in 360 and three dimensional? This might be the future, but it's being developed now.
For over 4 years, here at Holdens we've been pioneering immersive technology experiences, constantly exploring and pushing the boundaries for our clients in AR, VR and MR.
If you want to bring your brand to life in innovative ways and explore new possibilities that captivate and engage your audiences, get in touch with Ted at: hello@holdens.agency
Click here to see what our AR design studio can bring to your brand.