How to create a BTR or PBSA brand that builds a community and profitability
.
Category
Property & Placemaking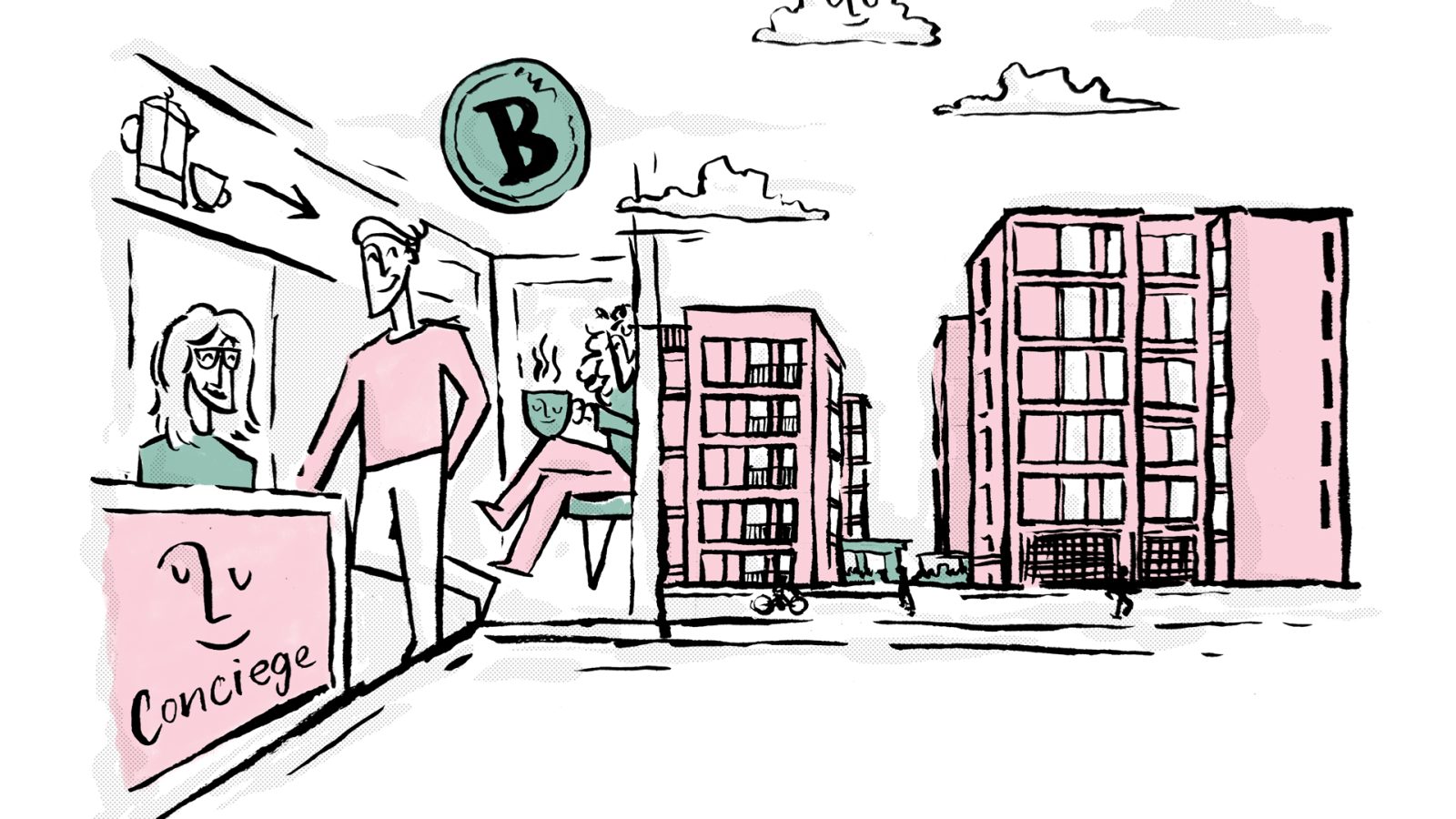 We have a favourite saying here at Holdens that goes something like this: a brand isn't just a logo, it's a gut feeling. It's the emotional reaction people have when they interact with your product or service. This is true for any business or organisation, whether you're selling sandals, sun loungers or sports cars. And the same is also true for property. In this blog, we explore the importance of branding for BTR (Build to Rent) and PBSA (Purpose Built Student Accommodation) and how it can help to build a real sense of community.
In today's digital age, we often hear about the importance of building a community around a brand, especially online. The most successful brands have carefully built communities of loyal customers over time, usually in the form of large social media followings. But what about the importance of brand when you already have a community, especially a physical one like in a BTR or PBSA development?
When it comes to property, the importance of brand cannot be understated. A strong brand helps to make a development more appealing, therefore increasing its marketability and profitability. It also creates an attractive proposition for all stakeholders involved, so that in time, a brand can actually become a property's most valuable asset. But to do that, you've first got to appeal to your end-users.
How? By creating an aspirational brand that is rooted in more than just bricks and mortar, that stands for something and has a story people can connect and engage with. Not only before they've booked a viewing but also long after they've unpacked their boxes. Because a strong brand can be the difference between a happy tenant and an unhappy one, which is extremely important in a world where word of mouth recommendations rule.
So, we know that creating a strong brand is important in the world of property, but how do we go about doing it in a way that helps communities thrive?
Take inspiration from location
It sounds obvious, but understanding location is crucial when it comes to creating a strong property brand. That's because it's pretty difficult to create a thriving community without first being aware of the wider community it exists in.
One of the first things we explore when working with a new client is where the BTR or PBSA development sits in the local area geographically, historically and culturally, as well as its relationship with surrounding communities, organisations and businesses. This often sparks ideas for names and brand identities that are ripe with local relevance and resonance, but also feeds into the wider advertising and marketing campaigns themselves.
It's simply not enough to know the local property market, you need to understand the local scene too. You need to live and breathe it as if you're part of it. That's why one of our first jobs is to link up with nearby creators in our network to become really immersed and arm ourselves with local knowledge, whether it's Birmingham or Barcelona we're in.
A great example of putting location right at the heart of a property brand and marketing campaign is the work we did with a BTR development in Manchester called Broadside. Check it out here.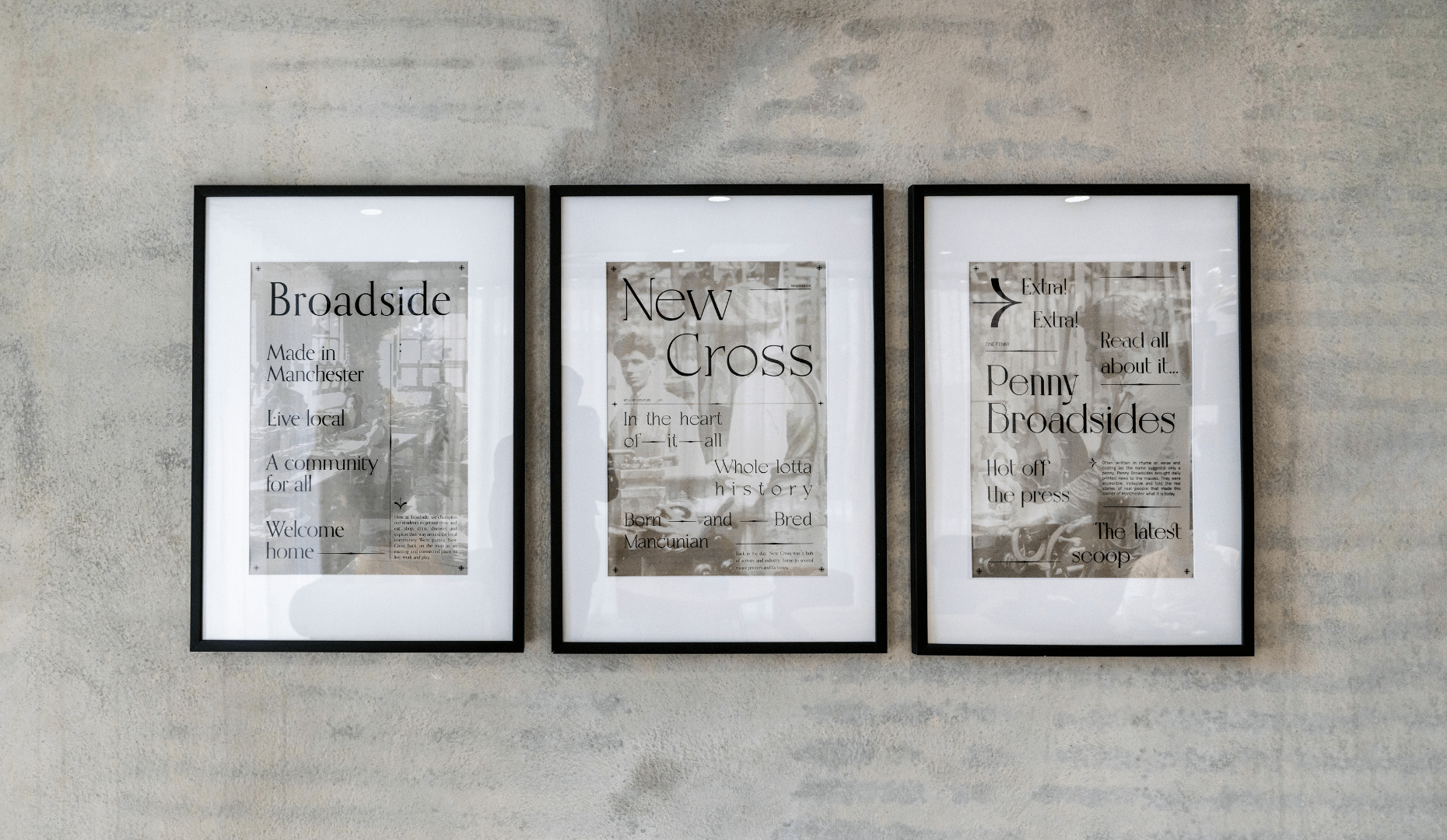 Know thyself, and your audience 
All successful brands are founded on a clear and defined purpose. And property brands are no exception. What do we stand for? What makes us different? What impact are we trying to make with this development? These are all very tough questions that need answering at the very beginning of the brand's conception.
Now, we understand it's not always easy to define the purpose of something that doesn't exist yet. So it's our job to help clients find the answers and realise their mission and vision through a comprehensive brand strategy and positioning process. Getting this right lays the foundations for everything else that comes later, acting as the solid building blocks for things like naming, brand identity and visual language, as well as tone of voice and how we communicate externally.
Part of the process of understanding your brand's place in the world will naturally involve figuring out who your audience is too. This should never be overlooked. While we might think we know the target audience for a BTR or PBSA development based on past experience, it's still vital to undertake research in order to develop fully fleshed out audience personas for that specific development as this will always be front of mind for the marketing and communications we produce.
Knowing our audience was particularly important for the work we did with Riverside, a PBSA development like no other in the small English city of Canterbury. Check out the case study here.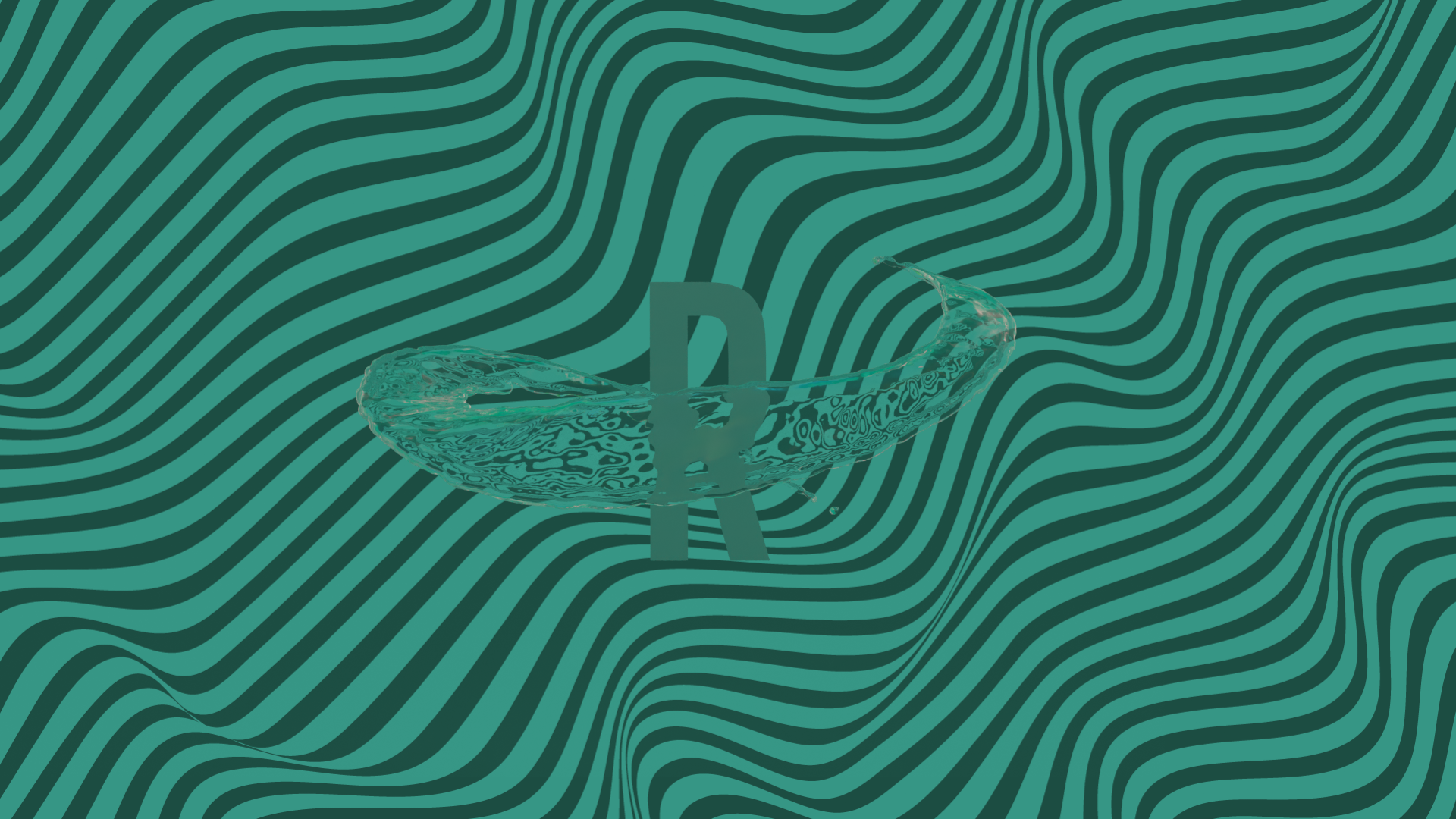 Consistency is key (no exceptions) 
Rome wasn't built in a day, and neither are BTR and PBSA brands. While the process of creating a brand, from its positioning all the way through to its name, identity and everything else that accompanies it, can be completed in a matter of weeks, a brand doesn't truly exist until it's out there in the real world. That's because a brand is the emotional reaction people have when they engage with it, and this can only happen when it leaves the studio.
For a brand to thrive, it needs to be done justice across absolutely every single customer interaction. No exceptions. From the branding on the side of the building down to a post on social media, email signature or logo on a t-shirt, plus everything in between, the brand has to be executed in a consistent and joined up way. Only then can the benefits of a true holistic brand experience be realised. Any discrepancy or oversight, no matter how small, can easily undo all your hard work.
There's a reason we take the time to craft brands that we passionately care about and are proud to share, and lovingly protect them with brand guidelines that allow them to do their job properly. Find out how we did it for Altura, a PBSA development in Birmingham, here.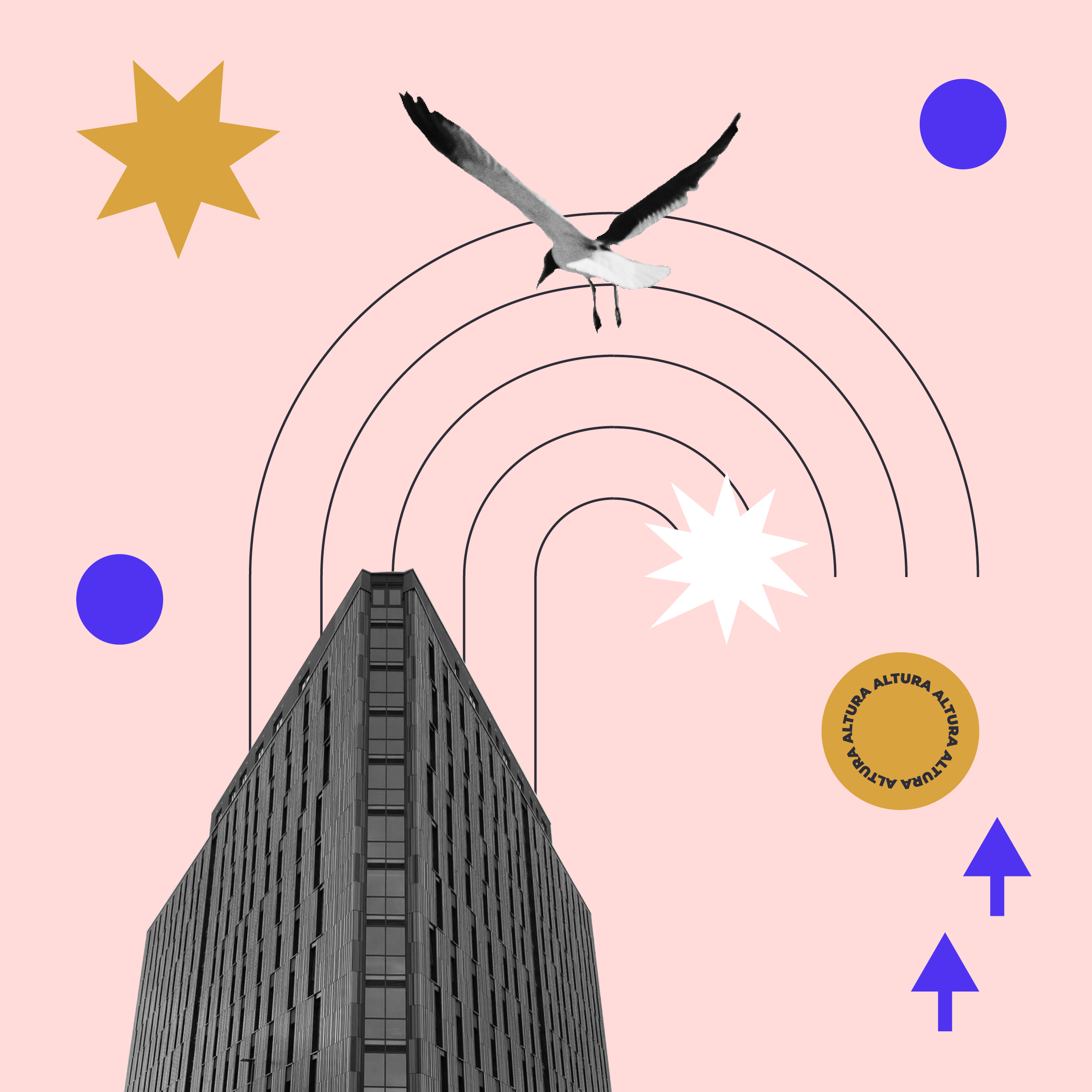 Capture the imagination, not just attention
Property marketing, especially BTR and PBSA marketing, is hugely competitive right now. The market is booming, especially in Europe, and there are so many brands vying for the attention of prospective tenants.
Your first thought might be to try and grab their attention at all costs, to do whatever it takes. There's definitely some truth in that, which is why we place so much importance on delivering hardworking social, digital and content marketing campaigns that drive real results and ROI for our clients. You can find out more about that in our case studies. But most importantly, you need to make sure you're capturing your audience's imagination.
Here is where all the important work we did earlier on defining the brand's purpose and positioning really comes into play. How do we find an interesting angle that enables us to tell the brand's story in an engaging and captivating way? And how do we do something different that will set us apart from the competition? It's not easy, especially when you're trying to sell a development that hasn't even been built yet. But in this instance, capturing the imagination is even more important because you need to be able to help your audience imagine themselves living there. To do that, you need a great idea and the right execution.
From immersive VR or AR experiences that transport audiences into a 3D simulation of the finished development through to 360 Matterport video walk-throughs and awe-inspiring drone footage, there are plenty of ways we can help property brands to connect with their audiences in a meaningful and memorable way. Check out how we pushed the boundaries of VR to do exactly that for PBSA development Onyx.
The most important thing to remember when creating a BTR and PBSA brand is it takes time. Impressions and clicks can be bought, but unfortunately a strong brand and thriving community can't. We work with our clients to develop strategies that do both, to help them understand how to turn the right levers to drive bookings and occupancy rates quickly in the short term, but also how to put all the necessary things in place to build brand awareness in the long term. Speak to us if you'd like to find out more.